Leaderboard Promotions: A Steal or a Con?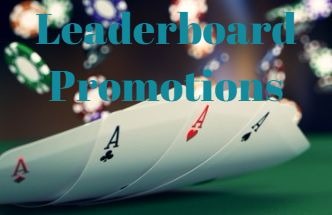 Leaderboard promotions are one of the most popular ways for casinos to keep their loyal members busy while they use all kinds of welcome bonuses to bring new players in. But these schemes aren't always what they seem. There is a reason that casinos favor them over anything else and that reason isn't because they are feeling generous.
Why These Promotions Don't Work
Real money online casinos use these promotions to keep their high rollers happy. The promotions award players with points for every cent that they spend on a slot machine, so it goes without saying that the more you spend, the more points you will get.
If you're playing at a stake level of £0.50 and you're going up against people playing with a stake level of £100 or even £500, then you don't stand a chance. It'll take you all day to get the same amount of points they could get from one spin. These high rollers see the leaderboards as a chance to get some rakeback, to limit losses, while smaller stake players see them as a chance to get something for nothing, even though they will never win.
Real money online casinos like 32Red, Bet365 and other highly rated casinos with slots like these leaderboard promotions because they know that they will earn way more money than they will pay out. They know that high rollers will battle each other at the top of the leaderboard for the satisfaction of winning, that countless smaller stake players will play more than they usually would and that many new members will join so they can play.
For them, it's a win-win.
Are All Leaderboard Promotions Bad?
There are some promotions that use leaderboards and are actually very good. It all depends on a couple of factors. First, how big is the site? If it's small and doesn't have a lot of players then you can use schemes like this to win kind of prizes without issue.
As an example, about 6 or 7 years ago BetFair was using a different poker software and was struggling to get new players in. They ran all kinds of promotions to help, including leaderboard promotions. One of those offered players who finished in the top 50 of a certain tournament the chance to win prizes upwards of $100 each. They clearly expected thousand of players to join, but only 60 did. This meant that you just had to sit-out several hands and wait for 10 people to get eliminated in order to win a prize, and if you were lucky enough you could scoop a big prize.
These leaderboard promotions are also great if they are based on winning percentages and not on stakes or the amount of money won. This way, it doesn't matter if you're betting £0.05 or £50 per spin, because it's not the money that is taken into account and high rollers can't buy themselves a place at the top of the leaderboard.
Last news
Win 5,000 Free Spins Every Day at PokerStars Casino

30.09 2019

PokerStars Casino has been working hard to attract new players this summer as it tries to convince people that it's...

Show more

Win the World's Biggest Jackpot on Mega Vault Millionaire

27.09 2019

Mega Moolah is arguably the most famous online slot in the world. It has broken more records than any other and has...

Show more

Join the End of Summer Party at Slotty Vegas

26.09 2019

The last dregs of sunshine are fading away as summer officially comes to an end and everyone prepares for the colde...

Show more