How Much Do Professional Gamblers Make?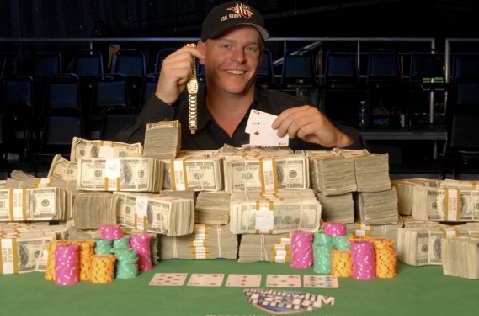 Anyone who gambles on a regular basis has thought about going professional at some point. It's a thought that usually occurs after a big win, we we feel on top of the world and right before we lose everything that we won and so much more.
But there are professional gamblers out there, so are they just as prone to losing as we are or do they really make enough money to live off?
They Make Good Money but Lose More
Most professional gamblers do win a lot of money, but these wins are offset by huge losses. Some of the best professional poker players went years without scoring big wins and one in particular recorded losses of more than $5 million over a two year period.
The only reason he remained professional is because the wins tend to be big when they do come and because gamblers have other perks to consider.
The Perks
Professional poker players often only lose big bucks in cash games, because most of them can enter online and offline tournaments for free. They just need to represent a brand when they are there and that brand will pay for them. The brand will also give them money to be the spokesperson, to show up to events and openings and to star in TV and online advertisements.
If you were to enter 100 tournaments at $10,000 a pop as a good poker player, then you could easily come away with more than $1 million, which is roughly what you would spend. Over the course of a few years, which is how long those 100 tournaments would take, that means you're always on the edge and are winning enough to cover losses.
If, however, half of those tournaments are paid for, you also have TV spots thrown in and you have a really good year, then that negligible profit could become $10 million or more. The same goes for blackjack pros who have huge rebates from casinos, as well as perks and loyalty schemes.
They Get Comped
If a big player goes on a bad run and decides to lay off the big tournaments for a while their absence will be noted. The event organisers want them there because they want the big names to show up. The same goes for the TV networks. So everyone starts doing what they can to help, throwing free tickets, hotels, flights and more at the player.
If that doesn't happen then a fellow player will comp their fee in exchange for a percentage of their winnings should they win. This means that even if a big star is paying their own way, they just need to take a step back and wait for the ensuing chaos before they'll be paid to play.
They Have Money
Professional gamblers either had a lot of money before they went into gambling, or in the case of players like Chris Moneymaker, they won it in their first big tournament. Once you have money then it becomes easier to play without a care.
Poker players are actors, comedians, writers, businessmen—they are rich, established people used to having money in their bank and not caring if they lose or win. This helps immensely and in most cases it's essential, which is why the vast majority of us can never be pro gamblers.
Last news
Win 5,000 Free Spins Every Day at PokerStars Casino

30.09 2019

PokerStars Casino has been working hard to attract new players this summer as it tries to convince people that it's...

Show more

Win the World's Biggest Jackpot on Mega Vault Millionaire

27.09 2019

Mega Moolah is arguably the most famous online slot in the world. It has broken more records than any other and has...

Show more

Join the End of Summer Party at Slotty Vegas

26.09 2019

The last dregs of sunshine are fading away as summer officially comes to an end and everyone prepares for the colde...

Show more